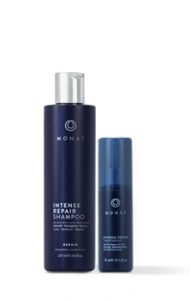 LET IT GROW
TREATMENT SYSTEM
Up, out and away it grows!
Does watching your slow-growing hair have you down and out? Could you
use an easy breezy two-step process that will quickly have you rejoicing
over the sudden abundance of free-flowing locks? With a simple tip of the
shampoo bottle, you too could be whistling a joyous tune as you simply sit
back and just let it all grow.
Great for Alopecia, Thinning Hair or  for people who have had Chemotherapy.
Contact us for Samples.