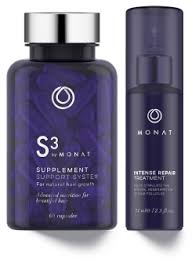 POWER BOOST
TREATMENT SYSTEM
Supports powerful natural hair growth.
Experience the power-packed combination of our new Supplement
Support System, S3 by MONAT perfectly paired with our Intense Repair
Treatment (IRT) for an impressive union that promotes the natural growth
of your hair from the inside out.
Boosts the natural growth of the hair from the
inside out while reducing hair thinning.
BENEFITS – Boosts the natural growth of the hair from the
inside out while reducing hair thinning