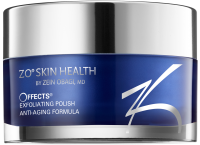 Offects Exfoliating Polish
Ultra-fine magnesium crystals exfoliate dead skin cells for all skin types and increase epidermal turnover for a cleaner, smoother, more even-toned complexion. Similar to an at-home microdermabrasion.

Vitascrub Acne Treatment Salicylic Acid 2%
Invigorating, multi-function scrub fights to banish blemishes and promote clear skin. Dual action exfoliation. Targets oil and bacteria. Increased hydration properties.